Eddy's Motel in Butte, Montana is offering a $50 Nightly Rate to truckers until May 15th, 2020. Our management wants to do their part in getting these essential workers off the road and out of their trucks for a respite from the "travel life".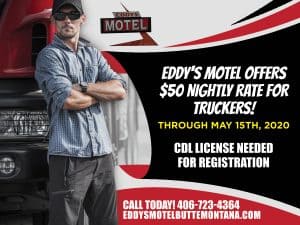 Lots of Truck/Semi Parking
Our motel has partnered with Mick's Repair, who is directly behind our motel, and they have offered use of their area for truck/semi parking. Thank you to Mick's  for this nice gesture!
We've Got You Covered – Relax from the Road!
Eddy's Motel has cable television in every room on flat screen televisions, and most of the rooms get wi-fi service. If wireless Internet is essential, please let us know so that we can place you in a room that gets a good signal. Our motel is an older one and we don't have great signals in every room. However, the lobby is available for your use with a great signal! Fresh coffee is available every morning starting at 7:00. We have a soda machine, as well.
Pet Friendly
We are pet friendly as far as dogs, and we only ask that if they are going to be on the bed, that you bring in your own throw blanket.  This helps us to not have to deal with excessive dog hair in the washers. 😊 There is a two dog limit. And, there is a $5.00 additional charge per dog.
Motel is close to……
We are directly across the street from Safeway, so you can stock up on anything you may need during your visit. We are close to 2 gas station/convenience stores. We are close to a walking trail. We have a local delivery service that is happy to deliver you food from the many yummy eateries in Butte. We are within walking distance of the Chamber of Commerce Visitor Center.
At the present time, while I write this, casinos, bars and restaurants are not open for walk in business due to the COVID 19 pandemic. We hope this situation changes soon. Once it does, there is a casino and eatery right next door to us that you can also unwind at if you feel the urge! Please check with us when you call to see what restrictions have lifted.
Our staff is working extremely hard on keeping the rooms as clean as possible by using Hospital Grade cleaning products and cleaning commonly touched items even more frequently than before.
We are truly "trucker-friendly"!
Please give us a call and we will get you taken care of, if we have rooms available! 406-723-4364. Take care, drive safe, and God Bless You!